Wind in commercial sails for blade runners
A contractor to the global wind turbine industry has scaled up operations at the Southampton business centre where it started up five years ago.
November 24th 2020
A contractor to the global wind turbine industry has scaled up operations at the Southampton business centre where it started up five years ago.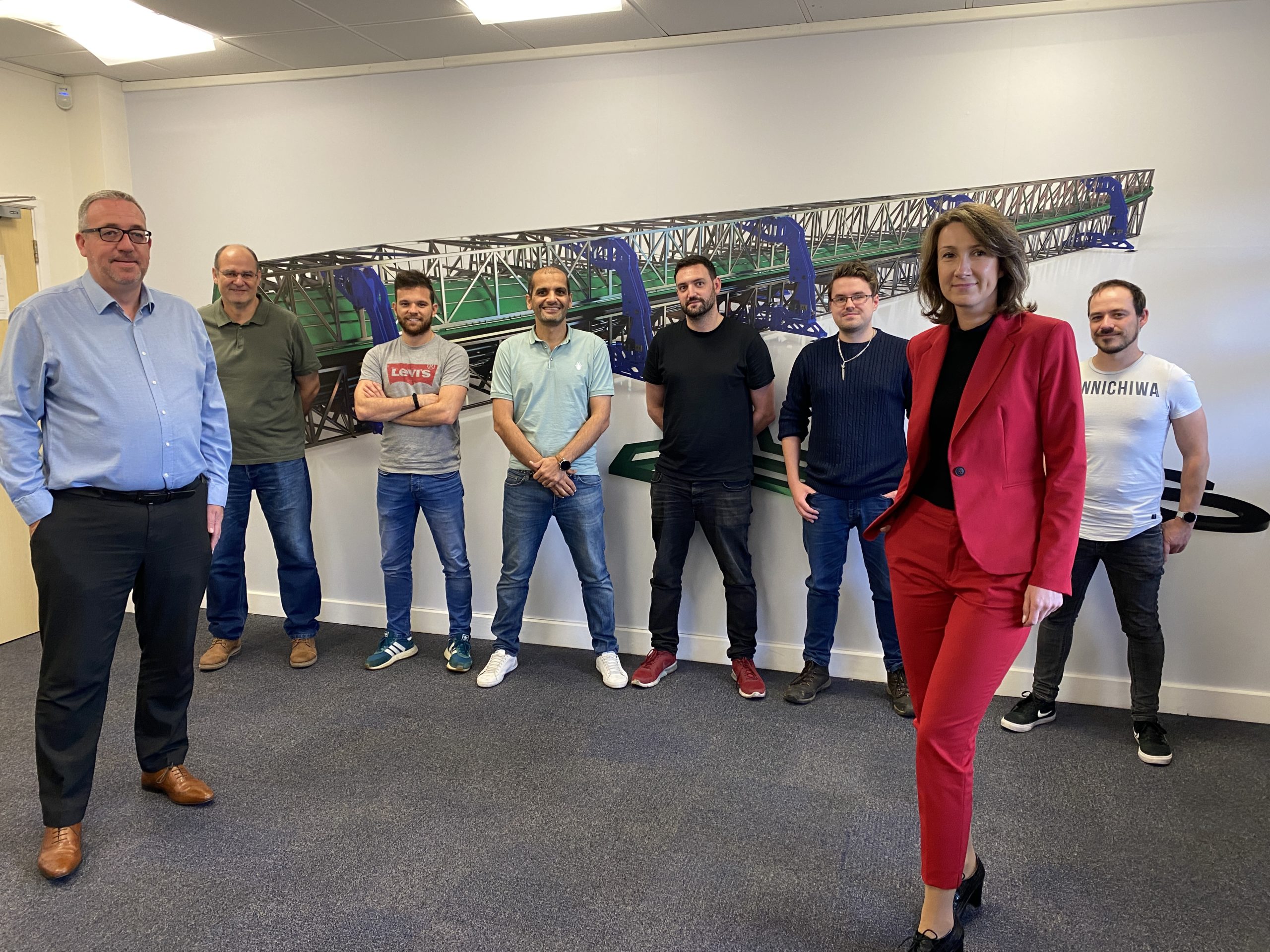 BLADE RUNNERS: Engineers at DFS Composites' new larger office at Ocean Village Innovation Centre in Southampton. The illustration on the wall depicts a wind turbine blade mould, with DFS Composites' precision turning mechanisms in blue. DFS Composites, which is expanding internationally, is led by founder Feras Yosef, fourth from left. On the far left is Stephen Deller, OVIC's Centre Manager, and OVIC's Innovation Director Monika Dabrowska, who provides business support expertise to DFS Composites and fellow occupiers.
A contractor to the global wind turbine industry has scaled up operations at the Southampton business centre where it started up five years ago.
Tooling and process engineering specialist DFS Composites moved into a 1,000 sq ft office at Ocean Village Innovation Centre (OVIC) following a series of job hires and contract wins.
Founded in 2015 by Feras Yosef, the 11-strong consultancy has also just been awarded a six-figure grant following guidance from OVIC's in-house business support expert.
Awarded by Innovate UK, Britain's innovation agency, the grant will be used by DFS Composites for research and development into wind turbine blade tooling, helping to create two new roles in the process.
Growth advice
It is currently receiving complimentary accelerator growth advice as part of OVIC's added-value service to occupiers.
OVIC, which has 30,000 sq ft of serviced offices space and meeting rooms, is run by Oxford Innovation, the UK's leading operator of Innovation Centres.
DFS Composites began life at OVIC with a virtual address before moving up into a shared office and other self-contained offices on site as headcount grew due to international orders.
Feras, the Director, said: "It is an incredibly exciting time for DFS Composites and, as well as safeguarding existing jobs, the grant means we can immediately take on two more engineers whose focus will be to take the company to the next level through dedicated R&D.
Business support
"From R&D, design and sourcing a quality manufacturing partner abroad, to shipping, installation, technical support and writing technical instruction manuals for our integrated tooling, there is never a dull moment."
Tribute was paid by Feras to the "fantastic support" provided by the in-house team at OVIC, including Centre Manager Stephen Deller and Innovation Director Monika Dabrowska.
He said: "It was Monika who brought the grant award application to our attention and guided us successfully through the process.
"Through its bespoke business support package, OVIC has repeatedly identified growth opportunities for us.
Trade missions
"As well as the unlocking of the innovation grant, benefits have included strategic business planning, fully funded trade missions to South Korea and Saudi Arabia, taking us through the intricacies of UK exporting and providing flexibility on workspace to suit budget.
"During the lockdown, OVIC was incredibly supportive too."
Stephen said: "What Feras and his colleagues – our very own blade runners - have achieved to date, having first started out as a virtual customer with us just five years ago, is inspirational.
 Wind power
 "With renowned expertise and determination, DFS Composites is making inroads into a global wind power market which is expected to be worth nearly £76 billion by 2025.
 "We are proud to provide business support to what is now a company straddling the map of the world."
 Through a sister company, DFS Composites outsources the high-quality manufacturing of its designs to a factory in Changzhou, in the south of China.
Products and systems by the company are also used in Latin America, South America, Asia and Western Europe, as well as in China.
Clean energy
According to industry reports, global cumulative installed capacity for wind power is likely to reach 1,019.5GW by 2026.
 One gigawatt (GW) of power provides enough energy for about 700,000 homes or 100 million LEDs.
Demand is being driven by the need for clean, reliable and affordable power as countries try to reduce dependence on fossil fuels linked to global warming whilst strengthening energy security.
Before starting up the business, Feras worked for a major industry player. He successfully led the development, design, manufacture and commissioning of more than 15 serial production lines of blade shells, internals, lifting and assemblies in Denmark, Spain, Italy, the UK, USA, China, Germany and Brazil.
Monika, who joined Oxford Innovation's OVIC last year, helps entrepreneurs such as Feras with one-to-one mentoring, workshops, seminars, programmes, funding and, with the universities of Southampton, Solent and Portsmouth, and Fareham College, knowledge transfers through internships.
OVIC is operated by Oxford Innovation, which runs 26 innovation centres across the UK on behalf of building freeholders and property investors.
To find out how your company could benefit from OVIC's ecosystem of entrepreneurs and serviced office support, please contact Stephen on 02380 381920 or email s.deller@oxin.co.uk Web: www.oxin.co.uk/ovic
More
May 26th 2023
Oxford Innovation Space delighted to be managing its first London based innovation centre
Oxford Innovation Space manages the largest network of innovation centres across the UK and Ireland, with FBC Clerkenwell bringing their current total to 28 managed centres, with a further four in the pipeline. Businesses within these centres directly benefit from their business support onsite, access to business angels and funding, as well as being part of the wider network of centres.
May 26th 2023
Taking tech companies to the next level
Tech businesses looking to commercialise new ideas will be able to draw upon expert help at a special afternoon event in Hampshire.
An innovation and growth session takes place at Ocean Village Innovation Centre (OVIC), at Ocean Marina in Southampton, on Wednesday, 7 June.
April 28th 2023
Orchard blossoms in first year with new staff and recruitment
A recruitment consultancy in Southampton marked its first anniversary by making two employment moves of its own.
Orchard Recruiting, based at business hub Ocean Village Innovation Centre (OVIC), recruited Laura Baker as a permanent consultant and Rachel Marshall as a recruitment advisor.
Founded by Lisa Orchard, the firm has seen demand steadily increase from companies struggling to fill vacancies or expand themselves due to the UK's labour shortage.
The start-up focuses on filling roles such as office administrators and customer service – temporary and permanent – for employers and job seekers, including in finance, accountancy, marketing, insurance, law, HR and manufacturing.