Yuno Media targets growth with OVIC business advice
Few businesses, however good, escape making mistakes – and how to bounce back is key
May 10th 2021
Yuno Media targets growth with OVIC business advice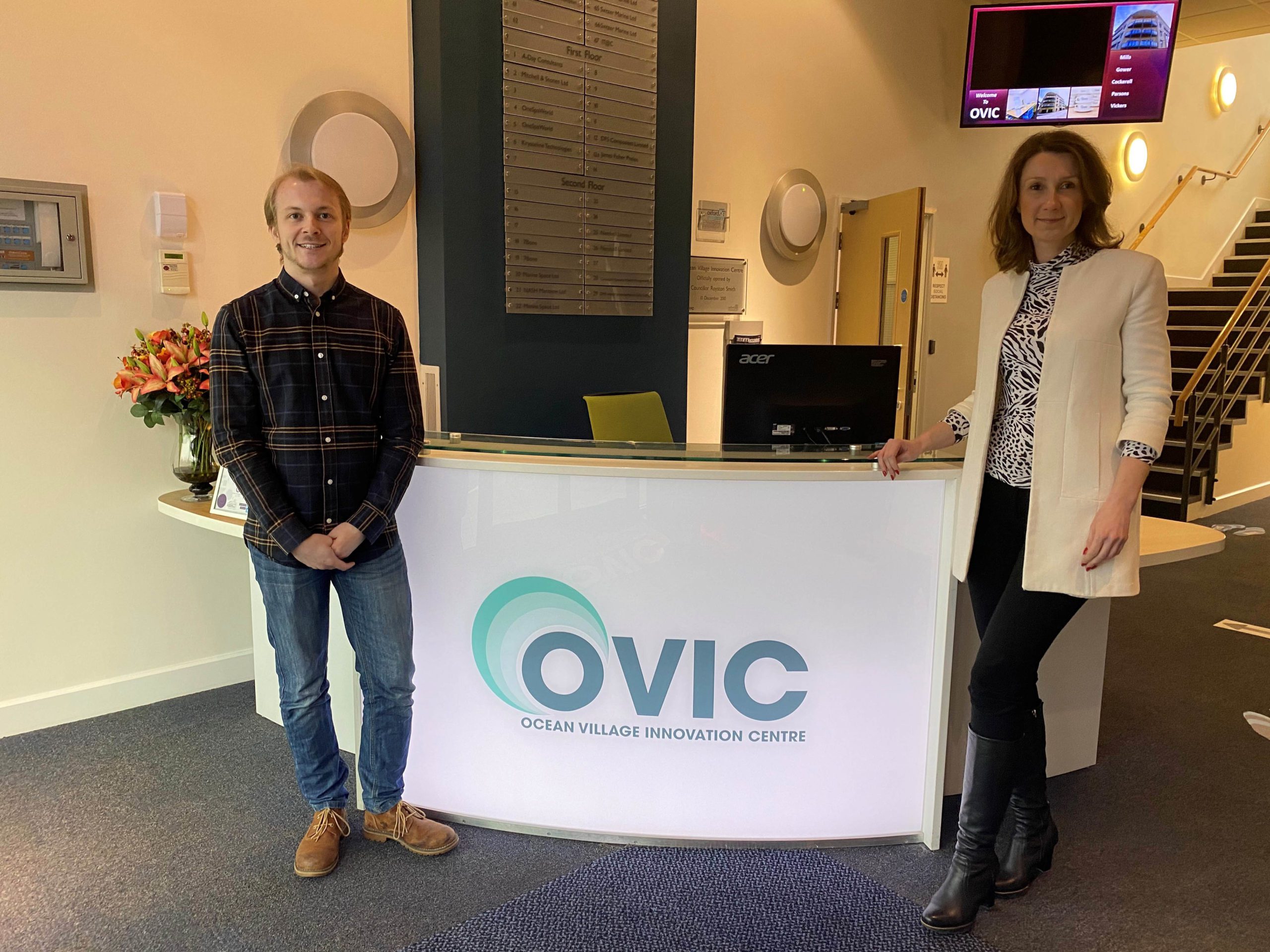 Yuno Media targets growth with OVIC business advice
BUSINESS SUPPORT: Rob Grover, a Director at Yuno Media, and Ocean Village Innovation Centre's Innovation Director, Monika Dabrowska.
Few businesses, however good, escape making mistakes – and how to bounce back is key.
Yuno Media, the digital marketing and design agency that provides services under its unique Growth Ecosystem Model at Ocean Village Innovation Centre (OVIC) in Southampton, has done just that.
A large, all-absorbing project generated decent revenue, but Yuno Media overlooked making provision for Corporation Tax on that year's trading profits.
Facing a hefty tax bill before the pandemic, Yuno Media found itself wobbling, distracted and worried as cashflow became all too tight.
Strategic advice
But the business, co-founded by 28-year-old twins Rob and Dan Grover in 2012, was soon back on track thanks to timely strategic advice from OVIC.
The serviced offices hub, home to a diverse range of small to medium-sized enterprises, benefits from an in-house Innovation Director who provides complimentary business support for occupiers.
Now Yuno Media is on surer footing, making inroads into the UK's legal services market, which is worth an estimated £37 billion.
Rob and Dan attended a number of virtual and in-person business advisory sessions with Monika Dabrowska, OVIC's Innovation Director.
Market focus
Monika cut to the chase – rather than a scattergun marketing approach to a wide range sectors, Yuno Media needed to focus resources on just one.
Following intensive research, Monika's advice has borne fruit, with Rob and Dan increasingly growing a customer base in the legal sector, where there are nearly 12,000 law firms in the UK.
Furthermore, Monika made Yuno Media aware of an IT hardware grant from Solent LEP during the Covid-19 national emergency.
Rob and Dan applied for the grant, with the business given three new laptops with webinar cameras.
Growth plans
"We made some classic mistakes, and we won't be the first or the last to do so," Rob reflected.
"We were distracted by one large project, to the detriment of generating new business, and were hit hard with a sizeable profits tax bill we hadn't accounted for.
"That was eventually paid off; we could have stopped but Dan and I persevered because we are not those kinds of people.
"We approached OVIC for advice and the narrative changed from 'how do we stop these problems happening again?' to 'how do we grow?'
Commercial opportunity
"We narrowed down to the legal sector because there is clear commercial opportunity to optimise outdated websites, refresh antiquated branding, drive enquiries and automate monotonous tasks."
Rob added: "We are incredibly grateful to OVIC for helping us in what was the business' darkest hour – the reason why we love being in this thriving business hub is because there are experienced hands all around us.
"The advice given to us has been incredible and we effectively restarted the business for the better.
"Monika boosted our morale and has given us so much more knowledge, including thinking strategically about who we are approaching and how those approaches are made."
Core focus
With 67 flexible office spaces over 30,000 sq ft, OVIC is operated by Oxford Innovation, which runs innovation centres across the UK.
These include Fareham Innovation Centre, which overlooks Solent Airport near Gosport, on behalf of building owners and property investors.
Stephen Deller, OVIC Centre Manager, said: "According to industry reports, the UK's legal sector was worth £37 billion in 2019. Yuno Media is well placed to provide expertise to law firms."
He added: "Yuno Media has been a long-standing occupier at OVIC and we were pleased to provide timely advice at a crucial time in the firm's development.
"Running a company, small or large, is hard work and many owner-managers realise, sometimes too late, that a 'critical friend' from the outside is required to ensure core focus.
"There's a saying that a woodsman cannot cut his own trees, and this is often true of smaller enterprises."
Bespoke support
Oxford Innovation, which operates 24 Innovation Centres, has provided more than 27,000 days of one-to-one coaching to 7,000 businesses.
OVIC's Innovation Director conducts periodic business diagnostic and review sessions with each customer, agreeing bespoke support that is dependent on the business life-stage and the challenges and opportunities it is currently or likely to face.
To find out how OVIC can support your business aspirations, ring Stephen Deller, Centre Manager, for a no-obligation chat on 023 8038 1920 or email Stephen at info@oceanvillage-ic..co.uk
More
May 26th 2023
Oxford Innovation Space delighted to be managing its first London based innovation centre
Oxford Innovation Space manages the largest network of innovation centres across the UK and Ireland, with FBC Clerkenwell bringing their current total to 28 managed centres, with a further four in the pipeline. Businesses within these centres directly benefit from their business support onsite, access to business angels and funding, as well as being part of the wider network of centres.
May 26th 2023
Taking tech companies to the next level
Tech businesses looking to commercialise new ideas will be able to draw upon expert help at a special afternoon event in Hampshire.
An innovation and growth session takes place at Ocean Village Innovation Centre (OVIC), at Ocean Marina in Southampton, on Wednesday, 7 June.
April 28th 2023
Orchard blossoms in first year with new staff and recruitment
A recruitment consultancy in Southampton marked its first anniversary by making two employment moves of its own.
Orchard Recruiting, based at business hub Ocean Village Innovation Centre (OVIC), recruited Laura Baker as a permanent consultant and Rachel Marshall as a recruitment advisor.
Founded by Lisa Orchard, the firm has seen demand steadily increase from companies struggling to fill vacancies or expand themselves due to the UK's labour shortage.
The start-up focuses on filling roles such as office administrators and customer service – temporary and permanent – for employers and job seekers, including in finance, accountancy, marketing, insurance, law, HR and manufacturing.