Green industrial revolution powers NASH
A growing maritime consultancy at Ocean Village Innovation Centre (OVIC) is set to increase on-site workspace
April 11th 2021
A growing maritime consultancy at Ocean Village Innovation Centre (OVIC) is set to increase on-site workspace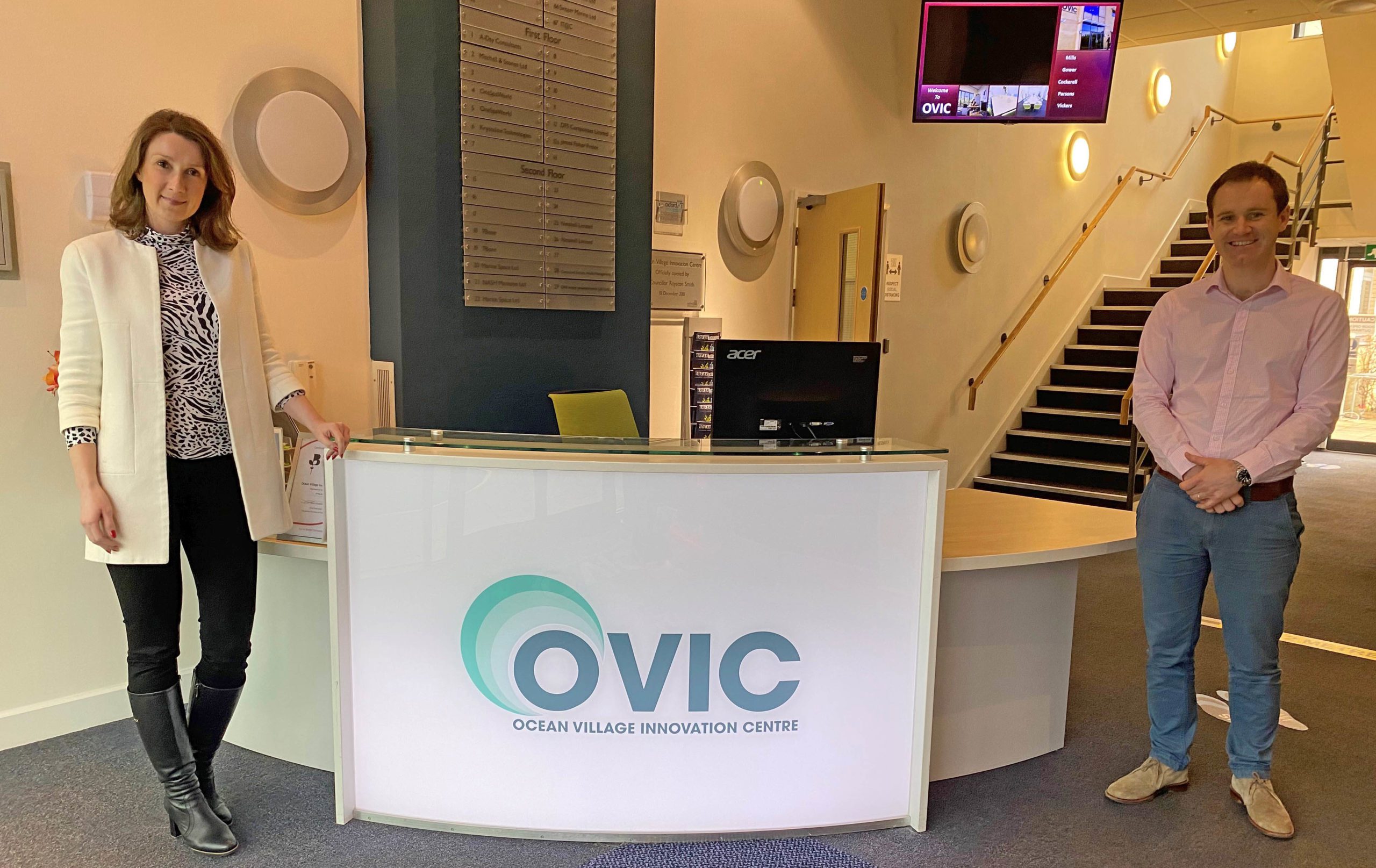 Green industrial revolution powers NASH
EXPANSION: Ocean Village Innovation Centre's in-house Innovation Director, Monika Dabrowska, and Jamie Holmes, co-founder of growing consultancy NASH Maritime. The thriving business hub in Southampton has 67 flexible office spaces.
A growing maritime consultancy at Ocean Village Innovation Centre (OVIC) is set to increase on-site workspace.
Britain's green energy surge in offshore renewables has seen the NASH Maritime team triple over the past year alone and also expand its network of associates.
The company, launched 2.5 years ago by Jamie Holmes and Dr Ed Rogers, has benefited from in-house business support by OVIC and an IT hardware grant from Solent LEP during the pandemic.
NASH Maritime, which first started out at OVIC with a virtual address before physically moving in to a serviced office, is looking to ultimately expand the team to upwards of 20 across the UK and internationally.
Powering homes
Latest project successes include working for a number of bidders on the Crown Estate 8 gigawatts (GW) of offshore wind capacity in England and Wales, with NASH Maritime's clients successfully winning nearly 3 GW in the auction of seabed leases.
A further 10 GW of capacity is currently being offered in Scotland and NASH Maritime is utilising powerful new computers, acquired through a Solent LEP Covid-19 grant, to run cutting-edge programmes remotely for bidders.
These include complex geospatial constraint analysis and navigation risk models which feed into the design of the offshore windfarms and also the subsequent Environmental Impact Assessments.
The UK is reportedly on course to meet its initial target of 40GW operational capacity by 2030 – enough to power every home – in a race to limit the damaging impact of global warming caused by fossil fuels.
Business support
Jamie said: "NASH Maritime is proud to play a role in the global energy transition, developing a net-zero carbon future for the UK.
"Our growth, which sees us shortly moving into our third office at OVIC, has been helped by the sage advice from OVIC's in-house Innovation Director, Monika Dabrowska.
"Along with mentoring and strategy, Monika signposted us to a range of innovation grants, including the one from Solent LEP which enabled us to purchase powerful PCs for remote use.
"OVIC is a cracking environment for small companies like NASH Maritime, allowing us to be flexible on space requirements, draw upon the complimentary business support and collaborate with other on-site maritime consultancies such as MarineSpace and DHI Water Environments UK."
Floating windfarms
In a new and developing technology frontier, NASH Maritime is also developing a market leading position in floating windfarms, having been appointed as the shipping and navigation consultant on the first two proposed floating windfarm projects in England and Wales.
As well as renewables and energy sectors, the firm specialises in maritime and port infrastructure development projects.
Recent highlights on the River Thames include developing Transport for London's proposed clean ferry service between Rotherhithe and Canary Wharf and providing navigation risk expertise on the Hammersmith Bridge refurbishment project. NASH Maritime has also recently provided navigation risk services during the construction of Tilbury2, Forth Ports new terminal just east of Dartford on the Thames.
Delivering expertise
Closer to NASH Maritime's office, the firm is advising Solent Gateway on their proposed Marchwood Port Development Project – viewable across Southampton Water from the window of NASH Maritime's office.
Stephen Deller, OVIC Centre Manager, said: "NASH Maritime has grown in stature immensely since first taking root here and is making great strides in delivering expertise in shipping, navigation and risk in the offshore energy and maritime sectors.
"Away from the UK, the firm is consulting on offshore wind renewables in the United States, part of President Biden's energy transition from carbon dependence, with similar opportunities in Asia."
"It's great to see how our in-house business advice, which is one of the many benefits of occupancy, has helped NASH Maritime, as it has for more than 135 other start-ups and early-stage firms here at OVIC and Fareham Innovation Centre."
Flexible office space
NASH Maritime's multi-disciplinary team includes experienced maritime professionals, master mariners, doctorate level maritime risk specialists, data scientists and engineers.
With 67 flexible office spaces over 30,000 sq ft, OVIC is operated by Oxford Innovation, which runs innovation centres across the UK, including Fareham Innovation Centre, next to Solent Airport, on behalf of building owners and property investors.
OVIC also has another occupier involved in renewables – tooling and process engineering specialist DFS Composites works internationally on wind turbine blades.
To find out how your company could benefit from OVIC's ecosystem of entrepreneurs and serviced office support, please contact Stephen on 02380 381920 or email s.deller@oxin.co.uk Web: www.oxin.co.uk/ovic
More
May 26th 2023
Oxford Innovation Space delighted to be managing its first London based innovation centre
Oxford Innovation Space manages the largest network of innovation centres across the UK and Ireland, with FBC Clerkenwell bringing their current total to 28 managed centres, with a further four in the pipeline. Businesses within these centres directly benefit from their business support onsite, access to business angels and funding, as well as being part of the wider network of centres.
May 26th 2023
Taking tech companies to the next level
Tech businesses looking to commercialise new ideas will be able to draw upon expert help at a special afternoon event in Hampshire.
An innovation and growth session takes place at Ocean Village Innovation Centre (OVIC), at Ocean Marina in Southampton, on Wednesday, 7 June.
April 28th 2023
Orchard blossoms in first year with new staff and recruitment
A recruitment consultancy in Southampton marked its first anniversary by making two employment moves of its own.
Orchard Recruiting, based at business hub Ocean Village Innovation Centre (OVIC), recruited Laura Baker as a permanent consultant and Rachel Marshall as a recruitment advisor.
Founded by Lisa Orchard, the firm has seen demand steadily increase from companies struggling to fill vacancies or expand themselves due to the UK's labour shortage.
The start-up focuses on filling roles such as office administrators and customer service – temporary and permanent – for employers and job seekers, including in finance, accountancy, marketing, insurance, law, HR and manufacturing.