Safety systems innovation
Safety systems on machine excavators are essential for any construction or demolition site, helping to protect operatives from on-site hazards.
January 8th 2020
Safety systems on machine excavators are essential for any construction or demolition site, helping to protect operatives from on-site hazards.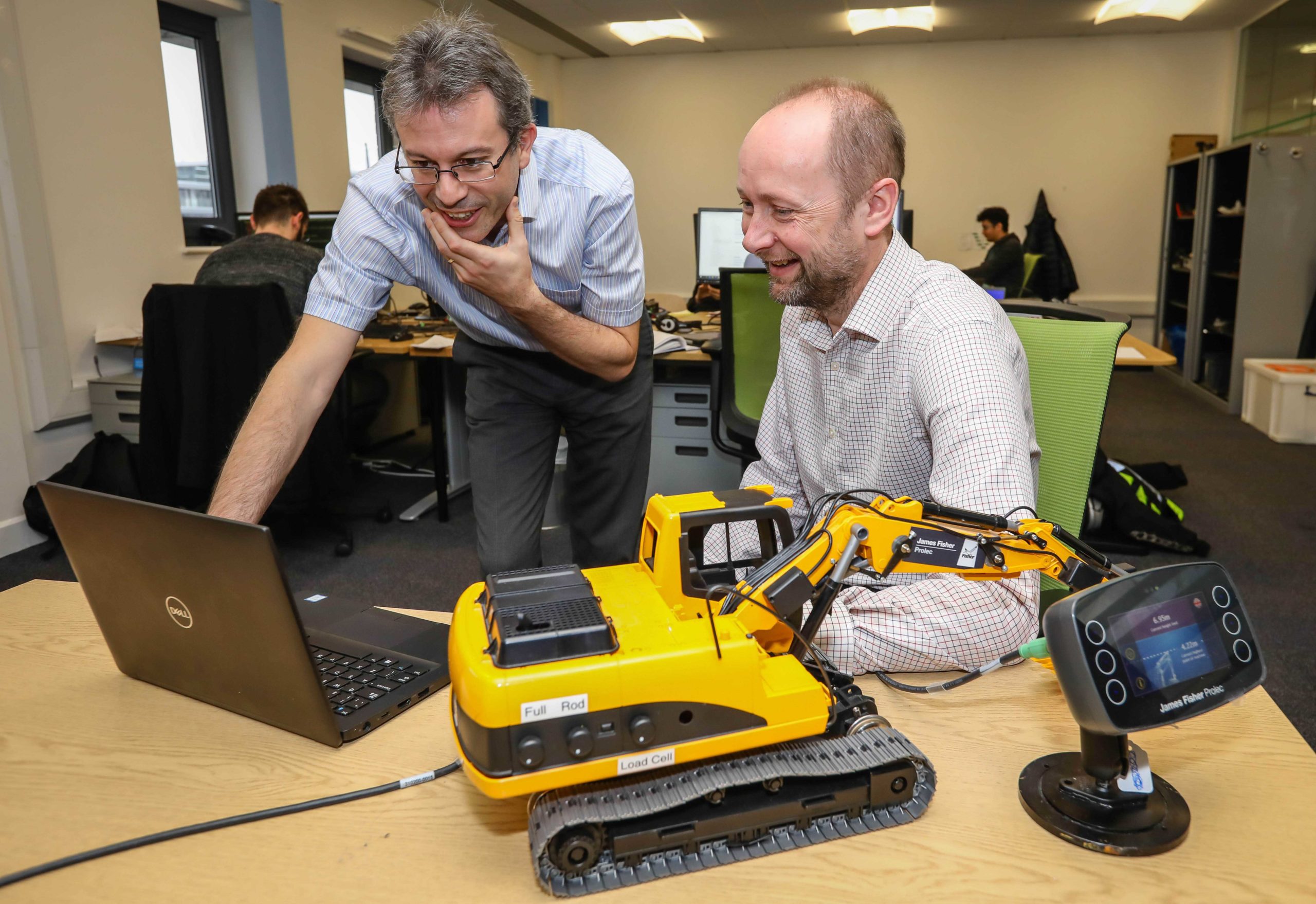 James Fisher Prolec at Ocean Village Innovation Centre. From left, Chris Mead, Senior Software Technical Lead, and Nigel Shaw, General Manager.
Safety systems on machine excavators are essential for any construction or demolition site, helping to protect operatives from on-site hazards.
James Fisher Prolec, which has just gone into its second year here at OVIC, is using satellite technology and some of the finest hardware and software developers in the region to ensure that innovation and safety are always being taken to the next level.
The company, part of the James Fisher group, expanded from its base in Poole, Dorset, to OVIC in order to tap into the talented pool from Southampton's two universities, which have around 36,000 students between them, and a cluster of well-respected engineering firms.
Nigel Shaw, General Manager, James Fisher Prolec, said: "We are all about machine safety and productivity solutions – and the highest standards of electrical and electronic manufacturing require capable staff. It is one of the key reasons why we chose OVIC Southampton."
Like many of the 45 companies based at OVIC, James Fisher has been able to flex accommodation, starting off with one smaller office and then upscaling to a larger second one as on-site numbers grew to the current 20, comprising software developers and sales and marketing.
"We continually strive for competitive advantage and are looking to make more hires," Nigel said. "OVIC takes care of everything for us on the managed office side of things and we have space to grow.
"This has been the first time we've set up in the city of Southampton and the less we have to think about the running of an office, the more we can think about James Fisher Prolec."
To that end, the focus is on developing new products which underline the company's reputation as a world leader in innovative safety systems which limit height, reach, slew and depth, with resultant machine productivity.
For example, PMX, a ground-breaking site safety solution for plant equipment, has been successfully brought to market.
Nigel said: "The system enables hazard mitigation to be delivered across a wide range of construction applications, addressing industry challenges associated with hazard strikes and conducting operations in close proximity to the passing public.
"Through the innovative combination of two well-established technologies, excavator hazard mitigation and global geolocation systems, PMX automatically prevents plant equipment from striking predefined hazards, creating virtual barriers and ceilings with pin-point accuracy.
"By minimising operator input, accelerating set-up time and limiting repositioning time, PMX offers transformative benefits in site safety, productivity and cost reduction."
As evidence of that, PMX is the first system of its kind to receive accreditation from Network Rail for Any Line Open (ALO) projects.
For highways, PMX has already generated significant industry interest, having been demonstrated on the central reservations of the M1 and M6 smart motorway projects with a number of leading contractors; the solution has been nominated for a Highways England Blue Star Innovation Award.
Nigel said: "We often hear construction staff saying to machine operatives 'have you got your Prolec on?' They refer to our name in everyday language like people do when they talk about Hoovers rather than vacuum cleaners.
"That is a good thing and the teams at OVIC and our long-standing factory in Poole have much to be proud of."
Thanks to technological excellence, James Fisher Prolec exports internationally. For instance, a Singaporean distributor purchased 40 safety systems for its range of excavators, with the product preventing the machinery lifting more than their safe working load.
In a similar vein, James Fisher Prolec is also rolling out TrackPilot™, a next-generation hazard mitigation solution for ALO on-track operations by excavator rail-road vehicles.
It is another step forward in the company's hardware-orientated past to a data-driven future, with OVIC providing the supportive base for a nerve centre of intelligence which is reshaping safety-critical systems as we know them.
Other Oxford Innovation centres in Hampshire are BASE Bordon Innovation Centre, Fareham Innovation Centre and Portsmouth Technopole.
To find out how your company could benefit from OVIC's ecosystem of entrepreneurs and serviced office support, please contact Stephen Deller on 02380 381920 or email s.deller@oxin.co.uk Web: www.oxin.co.uk/ovic
More
May 26th 2023
Oxford Innovation Space delighted to be managing its first London based innovation centre
Oxford Innovation Space manages the largest network of innovation centres across the UK and Ireland, with FBC Clerkenwell bringing their current total to 28 managed centres, with a further four in the pipeline. Businesses within these centres directly benefit from their business support onsite, access to business angels and funding, as well as being part of the wider network of centres.
May 26th 2023
Taking tech companies to the next level
Tech businesses looking to commercialise new ideas will be able to draw upon expert help at a special afternoon event in Hampshire.
An innovation and growth session takes place at Ocean Village Innovation Centre (OVIC), at Ocean Marina in Southampton, on Wednesday, 7 June.
April 28th 2023
Orchard blossoms in first year with new staff and recruitment
A recruitment consultancy in Southampton marked its first anniversary by making two employment moves of its own.
Orchard Recruiting, based at business hub Ocean Village Innovation Centre (OVIC), recruited Laura Baker as a permanent consultant and Rachel Marshall as a recruitment advisor.
Founded by Lisa Orchard, the firm has seen demand steadily increase from companies struggling to fill vacancies or expand themselves due to the UK's labour shortage.
The start-up focuses on filling roles such as office administrators and customer service – temporary and permanent – for employers and job seekers, including in finance, accountancy, marketing, insurance, law, HR and manufacturing.