Seat of commercial learning for university entreprenuers
July 17th 2019
A summer school with a difference saw budding entrepreneurs develop and pitch their business ideas to a panel of experts in Southampton.
Held at Ocean Village Innovation Centre (OVIC), the intensive two-day event involved 18 participants and culminated in Dragons' Den-style presentations.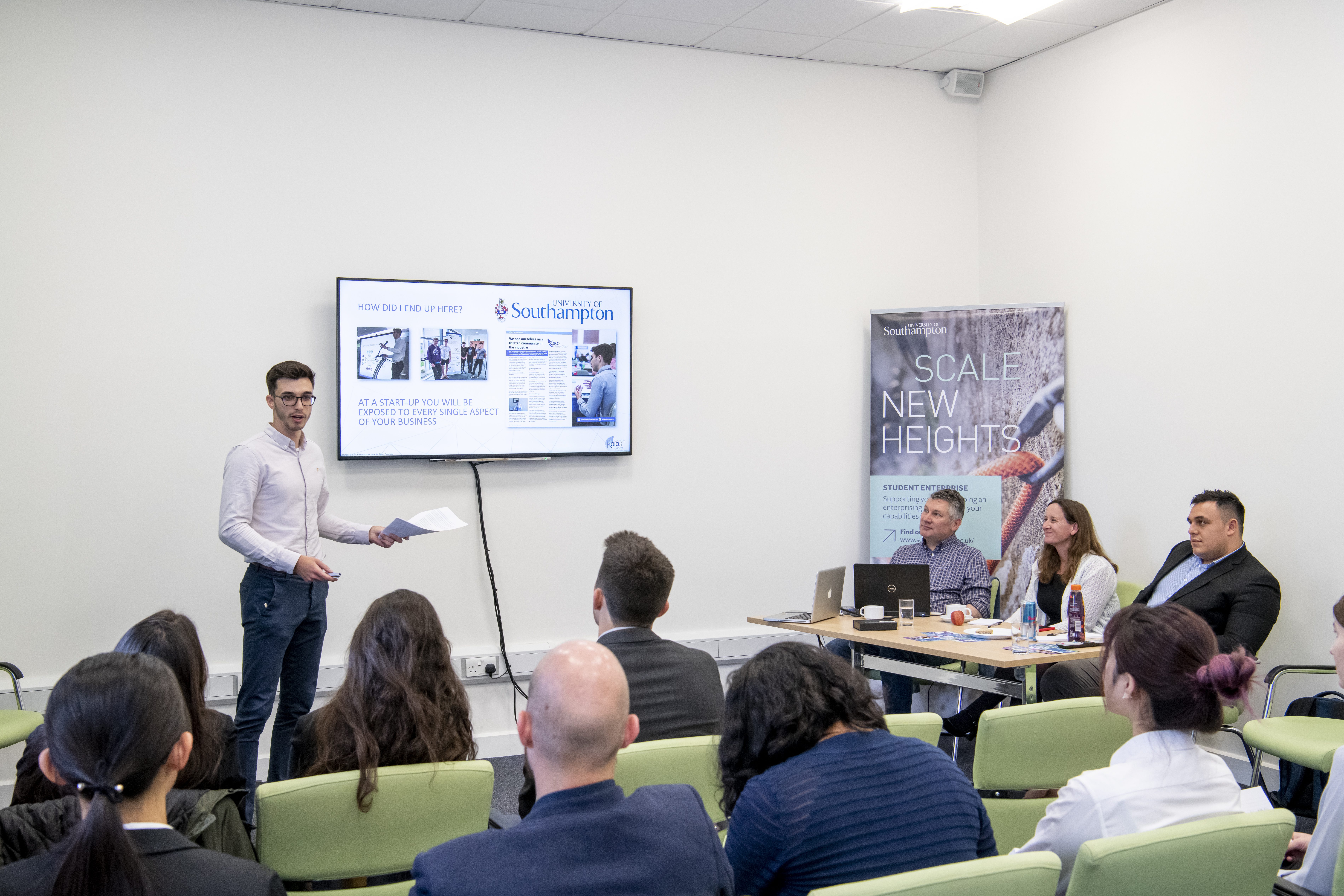 The University of Southampton students were on the Enterprise Summer School 2019, organised by the university's Careers and Employability Service.
Ideas included a shopping app for cruise ship crew members visiting Southampton, which won, and a social enterprise selling nail varnish to raise money for victims of domestic abuse.
Stephen Deller, OVIC's Centre Manager, said: "Start-ups are essential for economic wellbeing, with 14,224 registered in Hampshire alone last year.
"We're home to 45 start-ups, early-stage companies and more established businesses, so participants were able to draw inspiration from the entrepreneurial spirit, knowledge and can-do mindset that defines the centre.
"There are significant challenges to running a new venture, not least cashflow, and the students, all impressive in their own right, were put through their paces in teams to ensure proof of concept and commercial viability."Experts on the panel included OVIC's business support specialist, Innovation Director Richard May, and Josh Mitchell, co-owner of digital marketing consultancy Mitchell & Stones.
Josh is behind the inaugural Hampshire Business Show on 10th October at the Ageas Bowl, near Southampton- the event is being sponsored by OVIC operator Oxford Innovation.
Networking followed the presentations, with students hearing first-hand insights from various centre occupiers about running businesses.
Jenny Whitaker is the Customer Services Advisor, Student Enterprise Team, Communications Lead, Social Impact Lab, Careers and Employability Service.
She said: "We're grateful to OVIC for hosting Enterprise Summer School and providing invaluable tips and guidance from mentors."In addition to developing some truly inspiring business ideas, participants developed their employability skills hugely - and did the university proud with their hard work and entrepreneurial spirit."
Other Oxford Innovation centres in Hampshire are BASE Bordon Innovation Centre, Fareham Innovation Centre and Portsmouth Technopole.
Interested in joining the business community at OVIC? Call us on 023 8038 1920 or visit oceanvillage-ic.co.uk to find out more.
More
May 26th 2023
Oxford Innovation Space delighted to be managing its first London based innovation centre
Oxford Innovation Space manages the largest network of innovation centres across the UK and Ireland, with FBC Clerkenwell bringing their current total to 28 managed centres, with a further four in the pipeline. Businesses within these centres directly benefit from their business support onsite, access to business angels and funding, as well as being part of the wider network of centres.
May 26th 2023
Taking tech companies to the next level
Tech businesses looking to commercialise new ideas will be able to draw upon expert help at a special afternoon event in Hampshire.
An innovation and growth session takes place at Ocean Village Innovation Centre (OVIC), at Ocean Marina in Southampton, on Wednesday, 7 June.
April 28th 2023
Orchard blossoms in first year with new staff and recruitment
A recruitment consultancy in Southampton marked its first anniversary by making two employment moves of its own.
Orchard Recruiting, based at business hub Ocean Village Innovation Centre (OVIC), recruited Laura Baker as a permanent consultant and Rachel Marshall as a recruitment advisor.
Founded by Lisa Orchard, the firm has seen demand steadily increase from companies struggling to fill vacancies or expand themselves due to the UK's labour shortage.
The start-up focuses on filling roles such as office administrators and customer service – temporary and permanent – for employers and job seekers, including in finance, accountancy, marketing, insurance, law, HR and manufacturing.