Young entrepreneur's award suits Jeremy
September 20th 2017
Jeremy Mutebi, front centre, has won £50,000 worth of business support in the showcase final of Young Start-up Talent Hampshire 2017, held at Winchester Science Centre & Planetarium. Jeremy has launched a virtual menswear outfitting venture.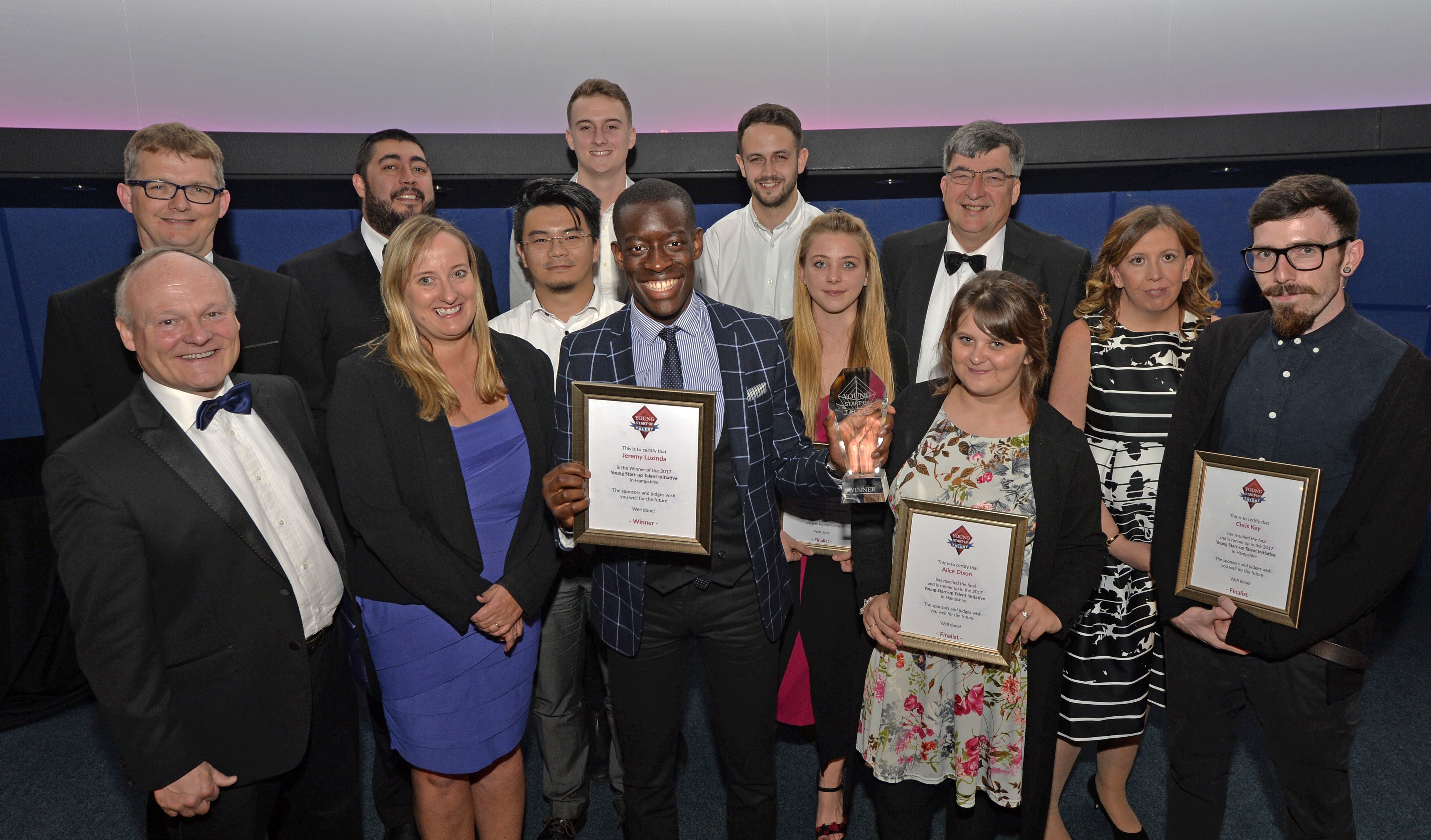 He's the virtual outfitter who is on a mission to make thousands of us dress as smartly as James '007' Bond.
Men's personal style consultancy Jeremy Mutebi, 20, is set to ramp up his start-up business, called J.M. Mutebi, after winning £50,000 worth of business support.
The economics undergraduate at the University of Southampton launched the venture with a £25 mannequin to display ensembles of shirts, ties, waistcoats and jackets from high street retailers.
That, combined with a website built from "a rubbish laptop" and a camera he bought with student finance, meant he could market online nationally and process tailor-made orders promptly.
Clearly moved during the acceptance speech at the showcase final of Young Start-up Talent Hampshire 2017, held at Winchester Science Centre & Planetarium, Jeremy described the win as "humbling".
He paid tribute to his hard-working mother, who came to Britain from a Ugandan farm two decades ago to raise a family.
"She really is a huge role model to me. I want to do what I do, I want to be who I want to be, so I can give her everything that she deserves because of what she has done for me. She has been there for me, she has been my rock."
In his Dragons' Den-style presentation to judges, Jeremy, whose Twitter handle is @JeremyMutebi, said: "The one thing I come to find with men is that they want to look like James Bond when they wear suits but either they don't have the time or the style expertise in order to put a look together they feel confident in."
Young Start-up Talent Hampshire is an initiative aimed at encouraging and inspiring 16 to 25-year-olds start their first business.
The process provides a chance for aspiring entrepreneurs to put their ideas into practice, with the opportunity to work alongside business professionals to develop their skills.
One of the key sponsors was Oxford Innovation, which runs 24 innovation centres across the country, including three in south Hampshire – Fareham Innovation Centre, Ocean Village Innovation Centre in Southampton and Portsmouth Technopole.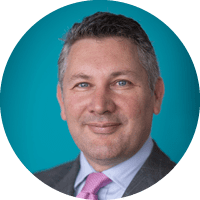 " Jeremy is blessed with a vibrant personality that captivates everyone he pitches his well-thought-out ideas to. His engaging presence is backed up by a solid business plan focused on a target market of young time-poor professionals in the financial services industry in London "
Richard May, Innovation Director at Oxford Innovation
" He has carefully researched the menswear market in the UK, has a remarkable talent to pick out clothing combinations from high street retailers of all price points and understands how to use social media, such as Instagram, to generate customers in this growing space.
"We look forward to mentoring and helping Jeremy finesse his business plan and financial forecasts in the coming year, as we do for many start-ups who require our demonstrable expertise in growing businesses in those vital early years.
"Jeremy also has bags of ambition – he says he wants to be bigger than Ozwald Boateng OBE, the fashion designer who cut his teeth tailoring on Savile Row."
Other finalists were Southampton's The Designer Toolkit (Tom Fowler and Chris Key) and Innobox Design (Adam Stannard and Jonathan Tellyn) and Portsmouth's The Maker's Guild (Ming Wu) and Seek a Word (Alice Dixon and Natasha Tiffin).
Royston Smith, the Conservative MP for Southampton Itchen, who has run a number of small businesses and was one of the judges, told contestants: "I was absolutely blown away by the quality of your ideas, by the way you presented yourself, your confidence, your enthusiasm, your energy.
"When I see our current judges in business, and how they are and have created the jobs we have today, and I see how you all are, and whether you win tonight or don't, there is no doubt in my mind that you are going to be successful."
Other judges were Lorraine Nugent, a public relations specialist in the South East, Matt Turner, the chief executive of the Creative Group, Cheryl Gourlay of NatWest, which is the competition's anchor sponsor, Paul Stacey, the owner of IQ Business Consulting, and Chris Allington, a consultant who helped Oxford Innovation grow its portfolio of innovation centres for start-ups and early-stage businesses.
Young Start-up Talent was founded by Lorraine and Matt across the South-East, with £1m worth of business products and services provided over six years to help 'newtrepreneurs', along with 60,000 youngsters reached through workshops and careers fairs.
Hampshire contestants were put through their paces earlier this summer by 20 judges, sponsors and supporters at fully-occupied Fareham Innovation Centre, which has 24 offices and 15 light-manufacturing workshops and is having a £7m extension to create an additional 33 offices, five workshops and two conference rooms.
Finalists then pitched their ideas to judges inside Southampton Solent University's futuristic Pod.
The high-pressure format was similar to last year's Young Start-up Talent Solent, which saw £50,000 worth of business support and services won by 22-year-old Harry Phelan of Studio H in Horndean, Hampshire, who has now opened his first barber shop.
Designer Toolkit provides online tools to streamline design workflows, including easy access to the brand assets of companies, such as logos and their guidelines, and Seek a Word is a translation service using online technology.
Innobox Design is a graphic design agency and The Maker's Guild provides a creative engineering space for users to create physical things using the latest in prototype technologies, such as 3D printers.
Other business professionals and sponsors which took part in the process included Nigel Duncan of Fareham College, Andrew Vine of NatWest, Codie Summerell of Oxford Innovation, Caroline Barfoot of Southampton Solent University, Steve Dimon of 1st Computer Services, Becky Lodge of Little Kanga, Ron Wain of Deep South Media, the UK specialist in virtual press office services, Victoria Vickery and Rebecca Paterson of All Star Marketing, Helen Frost of Space to Trade, Carley Hawkins and Lynda Povey of Portsmouth University, Haydon Taylor of Unloc and Rob Nunn of Creative Pod.
More
May 26th 2023
Oxford Innovation Space delighted to be managing its first London based innovation centre
Oxford Innovation Space manages the largest network of innovation centres across the UK and Ireland, with FBC Clerkenwell bringing their current total to 28 managed centres, with a further four in the pipeline. Businesses within these centres directly benefit from their business support onsite, access to business angels and funding, as well as being part of the wider network of centres.
May 26th 2023
Taking tech companies to the next level
Tech businesses looking to commercialise new ideas will be able to draw upon expert help at a special afternoon event in Hampshire.
An innovation and growth session takes place at Ocean Village Innovation Centre (OVIC), at Ocean Marina in Southampton, on Wednesday, 7 June.
April 28th 2023
Orchard blossoms in first year with new staff and recruitment
A recruitment consultancy in Southampton marked its first anniversary by making two employment moves of its own.
Orchard Recruiting, based at business hub Ocean Village Innovation Centre (OVIC), recruited Laura Baker as a permanent consultant and Rachel Marshall as a recruitment advisor.
Founded by Lisa Orchard, the firm has seen demand steadily increase from companies struggling to fill vacancies or expand themselves due to the UK's labour shortage.
The start-up focuses on filling roles such as office administrators and customer service – temporary and permanent – for employers and job seekers, including in finance, accountancy, marketing, insurance, law, HR and manufacturing.